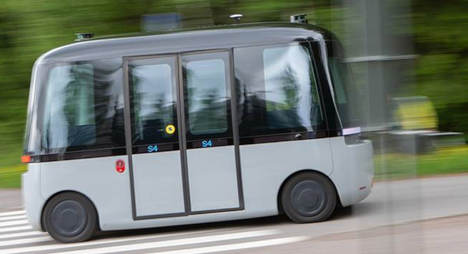 Sensible 4 develops software for all-weather autonomous vehicles, building on 30 years of work with mobile robotics.
"The IMU is employed to rectify the point cloud and thus impacts the accuracy of lidar data," said Sensible 4's Fredrik Forssell. "We are excited to commence depth-testing with the six-axis sensor from Panasonic – we are curious about the outcomes."
An IMU can assist in the sensor data fusion where data points from sensors such as odometry, GNSS and lidar is processed into an agreed three dimensional scalar and vector field representing the vehicles environment.
Finland's sometimes challenging weather interests Pansonic. "We are interested in sending out our sensor to this freezing baptism by fire to Finland and learn more on its readiness," said Panasonic product marketeer Ryosuke Toda.
The self-driving software is lidar-based. "Our technology is one of a kind and brings several benefits to our customers," claims Sensible 4. "The software filters out outliers from the air, such as snow, rain and fog – and allows autonomous vehicles to drive on roads without lane markers and landmarks."
Its software has four modules: positioning stack, obstacle detection, control stack, and fleet operation, and the company is planning a commercial launch next year – for an all-weather Level 4 autonomous shuttle bus product branded 'Dawn'.
"Dawn was explicitly made for last-mile shuttle busses of 6-20 people," according to Sensible 4. It "offers true Level 4 self-driving with remote assistance over existing mobile networks and no safety driver on board".
Websites
Sensible 4
Panasonic