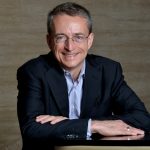 Gelsinger also has an internal Intel mission to return Intel to the leading of chip process technology  by 2025.
The two missions are clearly complementary. Adding urgency to Gelsinger's missions are worldwide concerns among political leaders about the effects of the chip shortage on their downstream  industries.
Gelsinger has been spreading the message that the chip shortage could last until 2023.
In June Intel directors and Gelsinger held a 'rooftop reception near the White House' says the WSJ to lobby for a multi-billion investment in chip manufacturing.
Gelsinger has also met EC commissioner Thierry Breton to talk about subsidies for another EU Intel fab. He says Intel will announce a European fab later this year.
The WSJ says Gelsinger has been on a 'global tour'  meeting national leaders to address their concerns about
According to the WSJ "Mr. Gelsinger has struck a common note in those meetings, namely that Intel has big plans to build more chip factories that also can help fix an overconcentration of chip-making in Asia driven by lucrative incentives there. All it will take to level the playing field is a few billion dollars in subsidies."
In March Gelsinger announced plans to build two $10 billion fabs in Arizona. Asked if the government was providing support for these fabs he replied: "It's an Intel strategy full stop. It's not dependent on any outside source. We're making these commitments without commitments from the government."