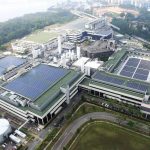 The Singapore Economic Development Board and co-investments from committed customers have helped to fund the fab,
With worldwide Semiconductor revenue projected to increase 2.1 times in the next eight years, according to GloFo, the company has planned capacity expansions at all its manufacturing sites in the U.S., Germany and phase one of its 300mm fab expansion in Singapore.
When complete, GloFo says it will have added 450,000 wafers per year to its capacity, with the Singapore campus contributing up to approximately 1.5 million (300mm) wafers per year.
The new fab will be the most advanced semi manufacturing facility in Singapore and will enhance GF's ability to provide its  RF, analogue power, non-volatile memory products.
GF is adding 250,000 square feet (23,000 square meters) of cleanroom space and new administrative offices.
The new fab will create 1,000 new high-value jobs such as technicians, engineers and more.
With construction already underway, the Fab is planned to start to ramp production in 2023.