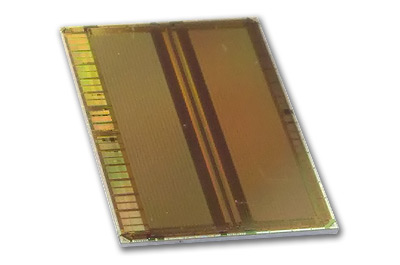 All of its products have one thing in common: they are 100% tested bare die, sold in small and medium quantities.
"We specialise in supplying die," company owner and sales director Ben White told Electronics Weekly. "We are a niche supplier to aerospace, defence, medical and industrial customers."
The company has eight employees and two identities: called Die Devices when it is distributing the die of other companies, and Silicon Supplies when it is a fabless chip company making its own die – more of this later.
It traces its heritage back to the 1980s when White's father Graham White founded die supplier Mintech Semiconductors – a company which was eventually sold and gradually morphed away from its roots, according to Ben White.
In 2011, the two Whites founded the present company, with Ben White taking over when his father retired five years ago.
In the 80s, according to Ben White, bare die were mainly sold to make hybrid circuits, predominantly for military customers. Now there are a number markets that need bare die, including oil and gas, industrial, space and medical devices. Drivers include the need for operation at high temperature or exposed to corrosive environments or radiation, of the need for miniaturisation.
Improvements in Semiconductor manufacture have changed the game for bare die suppliers, according to White.
"In 1980s and 70s, when device yield was not so great, everything was 100% tested on wafer," he said. "Now yield are so high that companies rarely probe wafers. They just dice them them untested, package the lot, test, and throw away those that fail. At most, they sample probe before they package."
As a consequence, selling bare die or even untested wafers has become an inconvenience to most chip makers because their production flows don't even have a step at which wafers could be removed. Only for a few markets, phones for example, are bare die shipped in large quantities.
"Bare die is a market that the mainstream manufactures don't want to be in because it is very difficult for them," said White. "We act as interposers."
Part of Die Devices' USP is knowing which chip companies will supply wafers, which don't, but might be persuaded.
"We supply die from branded manufacturers: Texas Instruments, On Semiconductor and ADI, for example," said White.
As die are no longer tested at wafer level, Die Devices has to start there, and then provide the whole back-end chain.
At it Norwich HQ, it has three wafer probers – two six inch and one eight inch. "We don't often see 12 inch wafers," he said. "If we do, we quarter them."
To support its high-mix low-volume portfolio, the company uses a combination of automated and manual testing programmes at wafer level, combining this with visual inspection and dicing.
"We do all the back-end to get die to the form that the customer can handle," said White. The flow has "even more processes than the normal back-end."
There are only a few things that cannot be handled in-house: "we outsource some lab work – scanning tunnelling microscopy and some other physics" he said.
It is not always possible to get devices in die or wafer form. "Even we cannot get some wafers, and we can get more than most," said White. And this is where Silicon Supplies steps in.
The Semiconductor devices it designs, or subcontracts, tend to split into two camps: trailing edge or leading edge.
At the trailing edge, die might not be available, not be available in small quantities, or only be available with a revised bond-out pattern for modern packaging.
"We are not usually talking high-end – these are not rocket science parts – but there is usually something unique and quirky about them," said White.
The 74C906 is an example. Similar to a 4000 series CMOS IC, it is a hex open-drain buffer that can handle 15V. "It is not a complicated part, said White, "but people need it for 15V."
Another is the LM3046 npn Transistor array. "This works at around 1GHz, and is very niche," said White. When they heard it was available again, analogue synthesiser fans wanted it. "We even had to have some packaged."
Despite being made in billions, the 1N4148 is not sold as a die, so Silicon Supplies makes its own: "Data sheeted and stocked," said White, "100% wafer probed 1N4148 die." This last part is an example of devices that have become standard products for the company. Others remain commissions.
At the leading edge, the company recently made a miniature Schottky diode for a medical eye implant.
Other modern parts are equivalents for devices that are electrically trimmed by their manufacturer after packaging.
"They are not going to give away the adjustment secrets, and we can implement the same function without trim – although you might get a different sized die," said White.
Most custom products are for sensing and power management: dc-dc converters, amplification, signal conditioning, and discrete diodes and transistors.
A mixture of old and new is SiS4080A, a 1MHz silicon-on-insulator full-bridge motor driver standard part designed and made by Silicon Supplies as a more rugged direct replacement for industry standard HIP4080-type drivers.
It there anything the company can't tackle?
It is not a question of not being able to do it, he replied. It is a question of expense. To create a DSP from scratch would cost so much that the customer will re-design the end-product instead.
Something similar is true for the bare die that Die Devices handles: "We don't do a lot of high pin-count digital. It is difficult to get equivalent test coverage – a typical high pin count for us is 60 I/Os," said White. "We could probe a new Arm core from TSMC, but the NRE would be huge."
An on-going conversation with the engineering community is important, according to White. "We really exist to try to help people in this unusual world. We educate engineers who want to design with die how weird it is," he said. "Engineers can register and use our engineering portal – it is a safe place to get advice."
For example, a designer needing to miniaturise something might have a particular part in mind, not realising that so few types of bare die are available.
"It's best if we catch them early, before they have spent too much. We will show them which parts can be got," said White. "What we find might not be as perfect as the part they originally wanted, but it will be available and do the job. Then we will try to get them some samples."
How does White sum up his companies? "There aren't many people doing what we do, and those that do do it, don't do it like we do.
Die Devices
Silicon Supplies